Is Valentine's Day pagan or what?
Imbolc blessings! Plus News from the Library, a hilarious, SEXY AF booktail and a special Amadeus-inspired Valentines cocktail recipe exclusive, the Capezzoli di Venere (Nipples of Venus)!
Welcome back to The Cauldron, witches! (Oooh ooh oooooh!)
The Birds and the Bees and the Sacrificial Dog
Let's begin with a truly divisive subject: the origins of Valentine's Day. In one corner, we have those who claim V-Day's beginnings are super pagan, cuz duh sex. In the other corner are those who say pagan schmagan, one's got nothing to do with the other.
To understand both sides, you need a little background on February the 14…
Lupercalia
There was once a Roman festival of fertility called Lupercalia, which was held February 13-15. Lupercalia honored the rural agricultural deity Faunus, as well as the twin founders of Rome, Romulus and Remus.
At the start of the festival of Lupercalia, the Luperci—an order of Roman priests—would gather at the cave where the legendary founders of Rome were supposedly mothered by a she-wolf ("lupus" means "wolf" in Latin). Next, a goat was sacrificed for fertility, a dog for purification. The goat's hide was cut into strips and dipped in sacrificial blood. As the priests passed through the streets carrying these bloody goat thongs, they—according to various sources—"whipped," "gently slapped," or "hit" women they encountered. The mark was supposed to render you fertile. Some say women lined up for this, others suggest these men just lashed out at anyone they could find. Did I mention they were probably drunk? It all sounds a bit frat boy-ish IMO, but that's the Romans for you.
To make matters even more unsavory, there's a rumor Lupercalia involved random match-making: young women allegedly put their names in an urn to be drawn by single young men, à la the Goblet of Fire. (Ok, maybe that analogy doesn't quite work, but let's just go with it.) Some say the lottery-drawn pairs stayed coupled up for the remainder of the festival, others claim they were bound to each other for a whole year, which seems like a pretty serious commitment to leave to a lottery. Then again, there are those who say none of this ever happened. However, those who say it did agree marriages frequently resulted from this Hunger-Games-fertility rites situation (woo really mixing my metaphors on this one). Additionally it's unclear how many of these hypothetical weddings would've been of the shotgun variety.
The Saints Valentine
So that's what the ancient Romans were up to on February 14. Fast forward to the 5th century: Pope Gelasius I declares February 14 St. Valentine's Day. There are multiple martyrs recognized by the Catholic Church with the name Valentine or Valentinus. Two were executed in the third century by—you guessed it!—the Romans.
The Debate
The V-Day-is-pagan side:
V-Day is a celebration of sex and romance and it's no coincidence it occurs on the same day as an ancient Roman festival of fertility and public flagellation. Furthermore, Gelasius I was not a fan of the festival (there's a letter documenting his distaste for it), so he intentionally replaced it with a holiday honoring martyrs of the Church. But the sexy mid-February vibes endure.
The V-Day-has-nothing-to-do-with-paganism side:
There's no hard evidence Valentine's Day ever had anything at all to do with Lupercalia. The overlapping dates in February are pure coincidence. Furthermore, it's possible that early Valentine's Days were not even on February 14, which lets Gelasius off the hook.
So who put the 'V' in V-Day?
As to how Valentine's became associated with romantic love, well, that's a whole other story/debate. Some sources claim in the Middle Ages, the English and French marked February 14 as the beginning of the avian mating season, which I guess seemed like a good enough excuse to get frisky? Others have pointed out birds don't usually mate in the winter though, so… there goes that.
We do know Chaucer was the first to record St. Valentine's Day as a lovey-dovey day when he wrote a poem in 1375 called "Parliament of Foules:" "For this was sent on Seynt Valentyne's day / Whan every foul cometh ther to choose his mate."
The oldest known valentine is a poem penned from the Tower of London in 1415 (what a romantic locale!). Its author is Charles, Duke of Orleans, and it's addressed to his wife. The poem now resides at the British Library in London.
Where does the potions priestess stand on the issue? Eh, I'm not actually a big fan of Valentine's Day. I prefer Galentines. Also, Imbolc! What's that, you ask?
---
You know what's for sure pagan? Imbolc!
On February 1-2 (right now!), we celebrate Imbolc, also known as "Oimelc." The name derives from an Irish word originally thought to mean "in the belly," though it also translates to "ewe's milk."
Imbolc marks the pregnant pause halfway between the winter solstice and the spring equinox. It is also known as Feile Brighde, the "quickening of the year," and is associated with the launch of spring, rebirth, and renewal. Known as the day of Brigid (or Bride, Brigit, and Brid), Imbolc honor the goddess Brigid, one of the most powerful Celtic deities, daughter of the Dagda, the oldest god in the Celtic pantheon of Tuatha du Danann. A goddess of the sun, fire, and hearth, Brigid's divine purview includes healing, poetry, and smithcraft. As the Triple Goddess, she embodies the maiden at Imbolc. 
The themes of the festival of Imbolc include light, fertility, and warmth. Dairy and butter are heartily enjoyed at this time, along with ginger, sage, rosemary, blackberries, seed cakes, and more. With the feasting and ritual lighting of the candles comes the hope for renewal: mid-winter days are long and dark. In earlier times, food was scarce and death loomed large. Imbolc honors that which sustains us and exemplifies our will to survive.
The Wheel recipe deck features an Imbolc elixir named for Brigid, made with white corn whiskey, cream, lavender syrup, and blackberries. It is, to use a technical term, really freakin' good.
---
News from the Library
Featuring news and updates on authors and their booktail-ized books!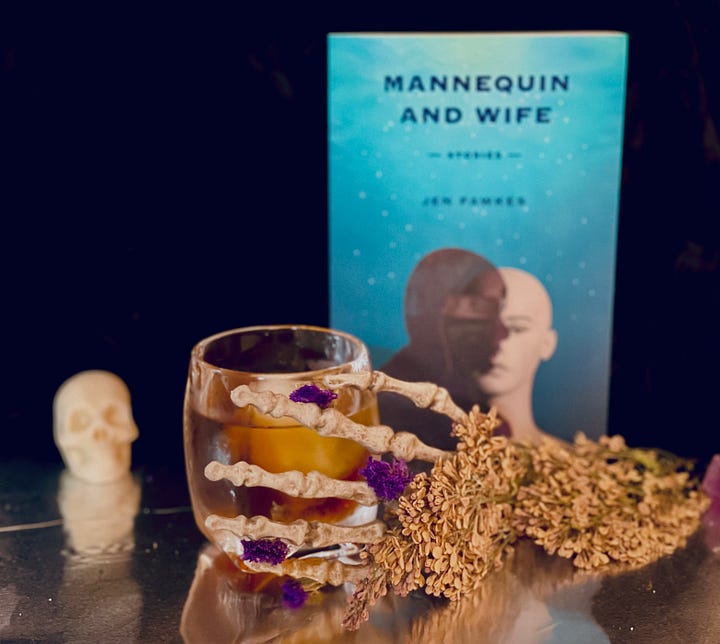 Jen Fawkes, author of the booktail-ized collections MANNEQUIN AND WIFE and TALES THE DEVIL TOLD ME, just sold her fabulist novel A YOUNG LADY'S GUIDE TO WORLD DOMINATION! Congrats, can't wait for this one!
---
And now, a smart, hilarious, sexy AF booktail, with 19th century lady scientists in London!
For booktail footage and other fun, quirky stuff, check out Pick Your Potions on

TikTok

! (Finally, a good reason to visit the TT, right?)
Elizabeth's Everett's new novel A LOVE BY DESIGN is a witty romance set in a highly relatable (and historically accurate) version of 19th century London. The third and final installment in The Secret Scientists of London series, A LOVE BY DESIGN turns to the story of another member of Athena's Retreat: Madame Margaret Gault, née Maggie Strong. 
After her childhood-friend-turned-lover rejects her, Margaret goes to Paris alone to study. Her subsequent marriage to a kind man whose family owns an engineering firm gives her a name and helps establish her career. Now she's a widow, the president of her firm, and the engineer on an impossible project that could make or break her. On top of all that, her one true love is back. Georgie has grown into Earl Grantham, a big, strapping man with real power and influence, even if most of society snickers about the "Untamed Earl." But the rep is unearned; Grantham still pines for Maggie and Maggie alone. When he utilizes his ownership of a newspaper to clap back at the hypocritical bigots trying to keep girls from getting an education, he unwittingly takes on one of the secret funders of Margaret's life-changing project. And that's just one issue between them: Margaret can't be an earl's wife, and an earl can't be married to a scandalously professional woman.
A sexy, funny read full of keen observations and colorful characters, this novel explores the limitations set on ambitious women of a certain class, who sacrifice respectability for knowledge, and influence for autonomy. Naturally they also suffer from Imposter Syndrome, highlighting the issues of the present embedded in a plausible past. 
This booktail is fruity but grown-up, a punch-like elixir that goes down easy. (Watch out! Port has a high alcohol content.) It's perfect for scorning bachelors at a ball, or having a clandestine tea with your badass lady friends. 
The base liquor is a tawny port (with notes of hazelnut for Margaret's "hazel eyes"), for all the port drunk throughout, especially the "purloined" bottles found among the books in dear friend Letty's office. Not to mention a particularly humorous post-ball debriefing, where Maggie and company sneak port in teacups, only to be discovered by Grantham, who swears he can smell the wine. But surely ladies wouldn't be drinking in the middle of the day! The port is combined with a simple syrup flavored with orange–for the bitter taste of Grantham's hope and Maggie's scent of oranges and sawdust–lemon, and star anise for Grantham's scent of licorice, linen, and sandalwood, and the taste of his very mouth. Lemon juice sharpens the other flavors and cuts some of the sweetness, bringing out the orange. Lemon also references Maggie's scent of oyster shells, fresh cut lemons, and graphite. (She has many scents likely only Grantham can detect, and he samples them all. In fact he wishes he could bottle them.) Grantham also stashes a lemon verbena scone in his pocket, which proves a wise move when some endangered geese trap George and Margaret in a copse. (Read it and see, it's hilarious. Yet somehow also sexy.) 
This booktail is presented against a pink and metallic rose backdrop for the bowls of dried lavender and rose petals in the Beacon House library. Likewise, a marble "vase" at the back right holds fragrant strands of dried lavender. Georgie used to collect pieces of marble for Maggie, and in a climatic moment, he gets close enough to smell "[...] salt and silk" and "[...] lavender and parchment and something utterly unique to women." (On another occasion, George also finds Margaret smells like "competence and lavender.") The vase itself is actually a pipe, a fitting subterfuge for ladies who hide their port, and sometimes their work. Or hedgehogs. To the left of the lavender is a vintage glass full of cherries, for Maggie's lovely cerises parfaites, plus citrus fruits representing the drink's flavors. The cocktail itself is served in a vintage tea cup–who would ever guess there's a cocktail in there?–set on a dessert plate big enough to make this a proper English tea, with a scone for Grantham, to whom young Maggie fed stale scones when little Georgie went hungry. There's also an Earl Grey tea shortbread cookie for dear old Cook's shortbreads, which taste like "sunlight and heaven." The pastries are topped by a hazelnut chocolate truffle, the final nod to smart, sexy, stubborn Margaret's hazel eyes.   
A LOVE BY DESIGN
Ingredients
1.5 oz tawny Port, preferably with notes of hazelnut 
1 oz orange lemon anise simple syrup (see recipe)
0.5 oz fresh lemon juice
Hazelnut truffle garnish  
Instructions 
Prepare the syrup. Once cool, add it to a shaker with a large ice cube, along with the port and lemon juice. Agitate vigorously for about 15-20 seconds then strain into a stemmed glass, or serve on ice if desired.  
Orange Lemon Anise Simple Syrup
Ingredients 
1 c sugar
1 c water 
Zest of one orange 
Zest of one lemon
1 whole star anise 
Instructions 
Zest the fruit over the pot. Stir in the remaining ingredients and bring to a boil. Simmer for 10 minutes, stirring occasionally. Remove from heat and let sit for a few minutes. Then strain and discard solids. Once cool, store in a glass bottle or jar and keep refrigerated.
---
For dessert, let's indulge in a deliciously naughty Valentine's Day treat: the Nipples of Venus!
Remember that scene in Amadeus where Salieri plies Mozart's wife with chestnut confections called the Nipples of Venus? Yeah I made that into a cocktail. Ya welcome! The original recipe includes cake made of brandied chestnuts and vanilla, dipped in white chocolate, with a dark chocolate "nip." My version includes brandy, heavy cream, and chestnut vanilla cream, shaken on ice and served in a white chocolate-lined glass rimmed with dark chocolate.
Capezzoli di Venere (Nipples of Venus)

Ingredients
2 oz brandy
1 oz heavy cream
1 Tbsp chestnut cream
1/4 tsp vanilla
White and dark chocolate

Instructions
Coat the inside of the glass with white chocolate. To melt the white chocolate (which burns easily, watch out), microwave at 50% heat for 30 seconds. Stir and heat again at 50% for 15 second intervals, until smooth. Set in the fridge and let solidify. Once firm, dip just the rim of the glass in melted dark chocolate. To melt the dark chocolate, microwave on regular heat for 45 seconds, then stir. Continue microwaving in 15 second intervals, stirring in between, until the chocolate is smooth. Set the chocolate-coated glass back in the fridge. Add the brandy, chestnut cream, heavy cream, and vanilla to a shaker, along with a large ice cube. Agitate vigorously for 1 full minute. Strain into the prepared glass.
Cheers, witches and lovers! Saluti streghe! And blessed Imbolc!