V-Day Exclusive: My Bloody Valentine!
A treat for you and you and you. Happy Valentine's, witches!
Hiya, witches! Typically you only hear from me once a month, but I couldn't resist popping in to drop off this new macabre little cocktail recipe for V-Day. I was going to send it out tomorrow, but the vodka infuses overnight, so here ya go, ya welcome!
This recipe is only available in The Cauldron, so if someone asks where you got it, tell them to pledge their soul/subscribe! (Like for real though, please tell your friends about this witch's work. Ahem see the button below…)
Anyway, there are a lot of cocktails out there named for Valentine's, including those of the bloody variety. Most of them are very red-looking. But this original Pick Your Potions creation is REALLY red. It's also beautifully tart and strong and lovely. Enjoy with friends, lovers, and soulmates of all varieties! (Except please don't feed your pets alcohol. I'm not advocating for that.) Cheers, witches and lovers and archers! Muah!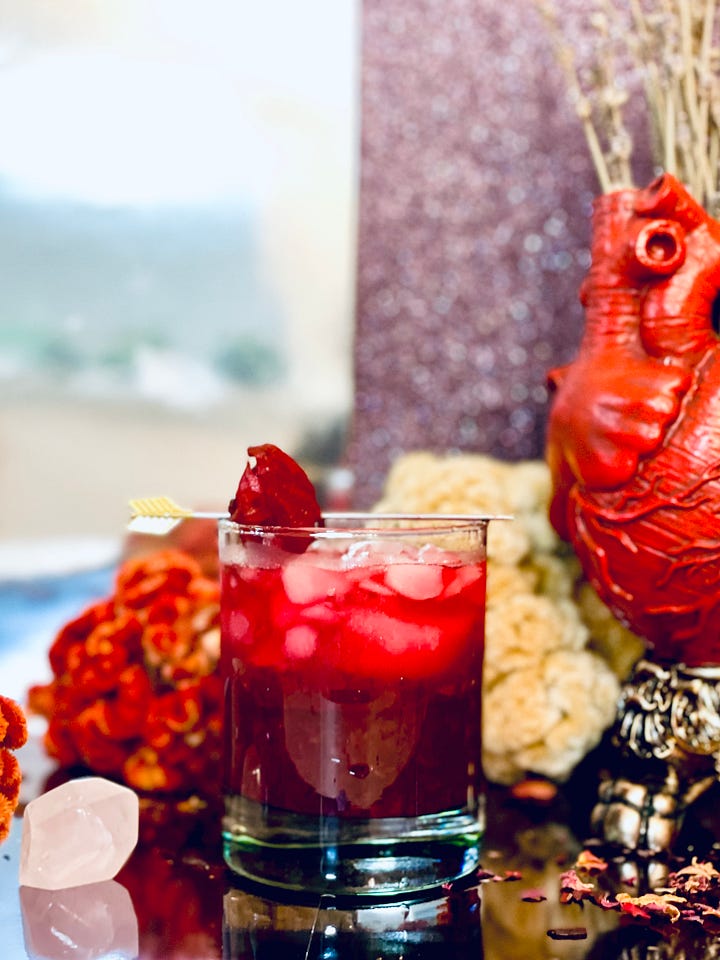 My Bloody Valentine
Ingredients
1 c vodka
1/4 c dried organic hibiscus tea
3 Tbsp dried organic rose petals
1 oz black rum
1 oz simple syrup
0.5 oz lime juice
3 generous dashes orange blossom water
Candied hibiscus flower
Instructions
Add the hibiscus tea to a jar, along with the rose petals and vodka. Seal, shake, and set aside overnight. The resulting vodka will be a deep red—like blood. Add 1.5 oz of the infused vodka to a shaker with a large ice cube, along with the black rum, syrup, juice, and orange blossom water. Agitate vigorously, then strain into a rocks glass filled halfway with crushed ice. Garnish with a candied hibiscus flower, if desired. (I found mine at Trader Joe's for 2 bucks!) Cheers!